Good Green Vitality Multivitamin Bar
Green means go! Our Good Green Vitality Multivitamin Bars are packed with plant-based goodness: superfoods, herbs, fiber, microbiotics, adaptogens, and more. Every bite supports a healthy lifestyle full of vitality. A nutritional super-boost for when you're on the go.
HOW TO USE
Good Green Vitality Bars can be enjoyed any time of the day. Take as a simple on-the-go snack when you need something tasty yet nutritious to keep you satisfied.
SUBSCRIPTION INFO
Never run out! Our monthly subscription delivers your order every 30 or 60 days. You can cancel your subscription at any time.
Ingredients + Nutrition Facts
Good Green Vitality Multivitamin Bar
Nutritionals
Good Green Vitality Multivitamin Bar
All
Good Green Vitality Multivitamin Bar
NUTRITION FACTS
Amount per serving

150

Calories


% DV*
Total Fat
4.5g
6%
Saturated Fat
0.5g
4%
Trans Fat
0g
0%
Cholesterol
0g
0%
Sodium
78mg
4%
Total Carbohydrate
19g
8%
Dietary Fiber
3g
10%
Total Sugars
16g


Includes 0g Added Sugars
0g
0%
Protein
7g
15%




Vitamin D
10mcg
50%
Calcium
116mg
10%
Iron
2.1mg
10%
Potassium
160mg
4%
Vitamin A
400mcg RAE
45%
Vitamin C
150mg
170%
Vitamin E
7.5mg
50%
Vitamin K
40mcg
35%
Thiamin
2mg
170%
Riboflavin
2mg
150%
Niacin
10mg NE
60%
Vitamin B6
4mg
240%
Folate
200mcg DFE
50%
Vitamin B12
50mcg
2080%
Biotin
150mcg
500%
Pantothenic acid
5mg
100%
Iodine
75mcg
50%
Magnesium
82.8mg
20%
Zinc
6mg
60%
Selenium
35mcg
60%
Copper
300mcg
35%
Manganese
1mg
45%
Chromium
20mcg
60%
INGREDIENTS
Apricots, Dates, Coconut syrup, Pea protein isolate, Cashews, Sunflower seeds, Almond paste, Chia seeds, Apple, Organic spirulina, Potassium phosphate dibasic, Flaxseed, Natural vanilla flavor, Sunflower lecithin, Red marine algae, Magnesium citrate, L-ascorbic acid, Natural pineapple flavor, Organic wheatgrass, Organic barley grass, Citrus bioflavonoids, Apple pectin, Citric acid, Organic chlorella, Broccoli sprout, Beetroot, Psyllium husk, Magnesium bisglycinate, Spinach, Papaya, Carrot, Cacao bean extract, Ginger, Licorice root, R,S alpha-lipoic acid, Shiitake mushroom, Bromelain, Resveratrol, Turmeric extract, Rosehip extract, Acerola extract, Antioxidant (mixed tocopherols), Kelp extract, Zinc gluconate, 1,3/1,6 Beta-glucans, Globe artichoke extract, Slippery elm, Steviol glycosides, Lactobacillus acidophilus, D-alpha tocopherol succinate, Coenzyme Q10, Astragalus extract, Green tea extract, Manganese gluconate, Ashwagandha extract, Bifidobacterium bifidum, L-selenomethionine, Mixed natural tocopherols, Goji berry extract, Dandelion extract, Calcium d-pantothenate, Panax ginseng extract, Rosemary extract, Gotu kola extract, Nicotinamide, Nicotinic acid, Pyridoxine hydrochloride, Retinyl palmitate, Cholecalciferol, Dunaliella salina, Rhodiola extract, Aloe vera extract, Hawthorn extract, Copper gluconate, Thiamine hydrochloride, Riboflavin, Grape seed extract, Bilberry extract, Blackcurrant extract, Menaquinone-7, Milk thistle extract, Phylloquinone, Calcium L-5-MTHF, Chromium picolinate, Biotin, Methylcobalamin.
Contains: Almonds, Cashews, Coconut. Made on equipment which also processes Milk, Soy, Peanuts, Tree nuts and Sesame, therefore these allergens may be present. Use as part of a healthy, varied diet. Always read the label and use only as directed. If you are pregnant, breastfeeding or on prescription medicine, please consult with your health professional. Contains Vitamin K. People taking warfarin should seek medical advice before consumption. Due to the use of natural ingredients, texture and taste may vary slightly over time. Store in a cool, dry place out of direct sunlight. In warmer climates bars can be refrigerated. Imagery representative of selected ingredients. All specific values are averages. Not suitable for children under the age of 4. Please visit www.nuzest-usa.com for more information.
All specified values are averages. *The % Daily Value (DV) tells you how much a nutrient in a serving of food contributes to a daily diet. 2,000 calories a day is used for general nutrition advice.
WARNING: Consuming this product can expose you to chemicals including lead, which is known to the State of California to cause birth defects or other reproductive harm. For more information go to www.P65Warnings.ca.gov/food.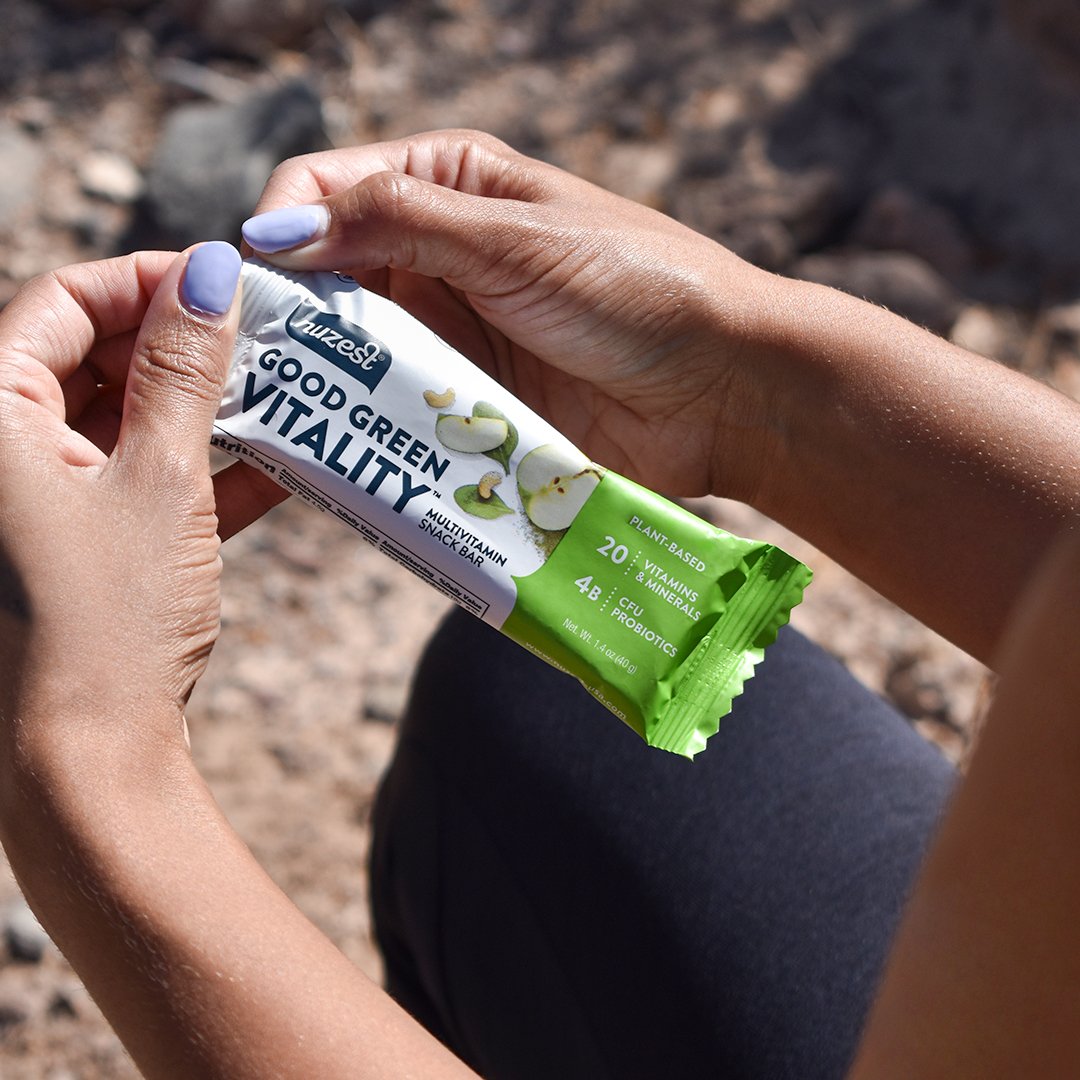 Planted with benefits
VITALITY & BALANCE
Packed with superfoods, B vitamins, Coenzyme Q10, and much more, Good Green Vitality bars support energy production and a healthy lifestyle full of vitality.
IMMUNE SUPPORT
Your immune system is always working overtime. With vitamins A, C, D and E plus Zinc, Magnesium, and many more immune-supportive ingredients, Good Green Vitality Bars offer a helping hand in your first line of defense.
BETTER DIGESTION
Supporting a healthy digestive system, Good Green Vitality bars are high in fiber, with the additional benefits of dietary enzymes and a range of digestive-supporting herbs and plants including ginger, liquorice, dandelion, and milk thistle.
Eat Your Greens, Wherever You Are
CONVENIENT
A nutritional super-boost for when you're on the go. Every bar contains a half a serving of Good Green Vitality for comprehensive nutritional support.
COMPLETE
A pure and powerful source of nutrition for everyday life. Every bite supports digestion, healthier-looking skin, and a more robust immune system.
EFFECTIVE
We select our ingredients for maximum efficacy. Good Green Vitality Bars are the perfect way to satisfy your hunger and make a serious contribution to your daily nutrition.
CLEAN
Everything you need, and nothing you don't. No fillers, no artificial flavors, no preservatives. Good Green Vitality Bars focus on good nutrition and avoiding the bad stuff.